Electromobility is a key building block when it comes to creating a sustainable city. Modern charging technology means that zero-emission cars can be used in the same way as regular vehicles.
Reducing inner-city air pollution is one of the most significant environmental aims in cities. Electric vehicles make a significant contribution to this. Not only do they produce zero local emissions, they are also silent when on the move. The Dutch capital Amsterdam is taking the lead when it comes to electromobility, as Abdeluheb Choho, a councillor of Amsterdam, explains: "In view of the health of all of our residents and the attractiveness of our city, we need to make the air in Amsterdam cleaner. Over the next few years, electric transport will become an essential element in Amsterdam." By 2018, there should be over 4,000 charging stations available for electric vehicles and by 2025, local public transport should even be completely free from emissions. The charging stations installed by Dutch power company Nuon are supplied with renewable energy from the Windpoort wind park, which is operated by Nuon – a subsidiary of Vattenfall – and Windgroep Holland. "Electrifying mobility is a key element in our efforts to lower CO2 emissions. As the power for the charging stations comes from renewable sources, we can really make a difference here for the city of Amsterdam," Martijn Hagens, COO of Nuon, believes.
Increased intelligence for charging stations
The necessary charging infrastructure now includes so much more than just "sockets" – it can be networked with photovoltaic systems, used in smart homes and is able to bill for the charged energy, for example. For Keba's latest charging station, the KeContact P30, its strengths lie in communication, as it provides different communication standards. This means that it can communicate with a central system thanks to the Open Charge Point Protocol (OCPP), which is of particular interest in public or semi-public areas. OCPP defines the industry standard for the online connection of charging infrastructure to central back-end systems to manage customer authentication and to monitor the system. As a result, it's not just possible to monitor the system, but also to manage the load intelligently and bill for the energy used. The charging station is also equipped with a GSM modem to enable all charging stations to be networked wirelessly and to connect them to OCPP central systems.
The charging stations from the French company DBT-CEV are fitted with systems which allow geolocation and online reservations for charging points and which manage access and payment. What's more, the latest quick charging stations from DBT-CEV fully charge electric vehicles in just two to three hours. "By aggressively expanding the number of quick charging points across Europe, we give the opportunity to EV drivers to use their electric vehicle as any other regular car," explains Hervé Borgoltz, Chairman of DBT-CEV.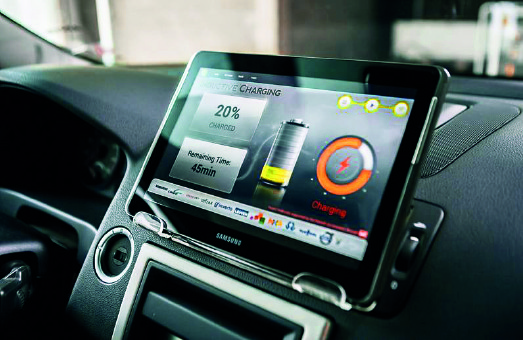 Contactless transfer of power
Nevertheless, it would be considerably more convenient if you could charge your electric vehicle contactlessly via the air rather than having to connect it to whichever charging station using the cable. The physical principle behind this is called electromagnetic induction. When charging inductively, the power is transferred to a coil installed in the ground via the magnetic field. The counterpart is located on the underbody of the vehicle. Systems like this are already in use in some cities – so far, they have been used primarily for local buses. The electric buses in the Belgian city of Bruges, for example, use inductive charging. The charge procedure with the Primove charging system from Bombardier lasts a maximum of twelve minutes. With a fully charged battery, the e-bus can drive for around 45 minutes without having to recharge. After a few circuits on the route, the e-bus then comes back to the charging station for recharging. The route is operated by two buses on weekdays and one on Saturdays.
So if you no longer have a cable, why not go one step further? In England, for example, tests have been carried out since 2015 to determine the extent to which electric and hybrid vehicles can be charged inductively while driving via charging coils integrated into the roads. However, for this to work on a large scale, the technology still has to overcome some difficult hurdles. It will have to be able to cope with a much higher number of vehicles covering greater distances, while offering a high degree of efficiency.
(picture credits: Bombardier; Unsplash: Thaddaeus)