The Siemens electronics plant at Amberg in Bavaria is already deploying some key elements of Industry 4.0. Products communicate with machines, and all in-plant processes are ­computer-controlled.
Industry 4.0 is an initiative of the German Federal Government. In late February 2015, Federal Chancellor Angela Merkel toured the Siemens electronics plant at Amberg in Bavaria to see for herself how far the ideas underlying the concept can already be turned into reality. At the plant, Siemens makes products including programmable logic controllers (PLCs) which control machinery and plant and automate production processes. The portfolio comprises more than 1,000 product variants, and the plant produces some 15 million of the PLCs a year. At 230 working days a year, that means one rolls off the production line every second. The plant celebrated its 25th anniversary in 2014. It has increased production volumes eight times over in recent years, without increasing its footprint and with almost constant workforce numbers. Production quality levels are 99.9988 percent defect-free.
One unified barcode label
That performance is made possible by a highly automated production system in which the products control their own manufacture. The basic prerequisite for this is that all objects in production – all components, all process steps, and all products – are identifiable. To that end, the Siemens Amberg plant has introduced a unified barcode label, holding all the relevant information, across all processes and departments. Based on the product code, the PLCs tell the machines what they need and which production steps are next in the process.
50 million items of process data per day
All the plant's process data is recorded. Solder temperatures, machining times, torques – over 50 million items of process data a day are measured. The production facility is equipped with 1,000 scanners, and over 1,000 machines relay their data directly online. Software tools convert this "Big Data" into "Smart Data", with the resultant analyses serving directly as management information. In addition, relevant systems are equipped with so-called "watchdogs" – components that monitor the correct functioning of a system. In the event of an error, the monitored system notifies the responsible personnel by e-mail.
People are still vital
Production is largely automated. In-house transportation is also handled with no human intervention. A fully automatic conveyor system ensures that the material gets from the warehouse to the machine in 15 minutes. 75 percent of the value chain is handled autonomously by machine and computer, with the employees handling the rest. Only at the start of the production process is the initial component – a blank printed circuit board – touched by human hand, as a member of staff places it on the line. From then on, everything is controlled by machine. Nevertheless, people are still a vital element – in developing products and production processes, in production planning, and when it comes to dealing with unexpected incidents.
Chancellor Merkel was clearly impressed by the possibilities of Industry 4.0 following her visit to the Amberg plant: "This process will substantially change industrial production. The availability of data will in turn open up opportunities for designing entirely new products."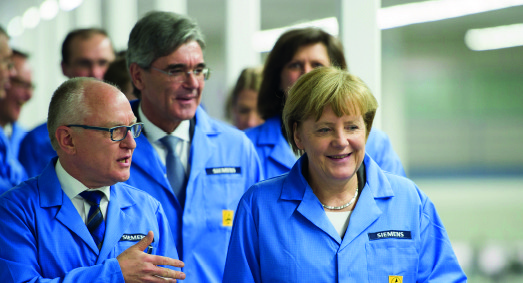 (picture credits: www.siemens.com/press)